2016 Reseller of the Year Awards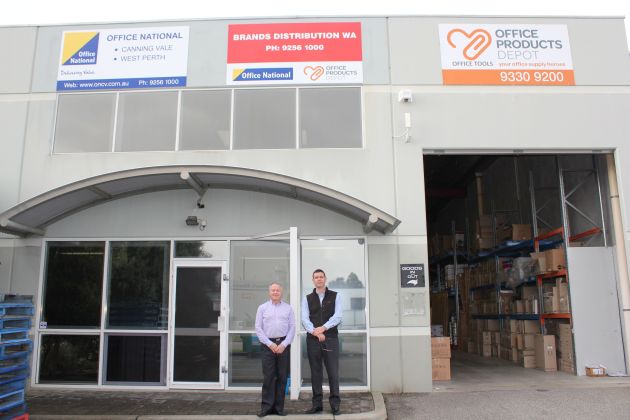 ONCV's Phil Funga (left) and Mike Kilroe.
Winner: Metropolitan Reseller of the Year
Office National Canning Vale
The impact of the downturn in the mining industry has impacted on the Western Australian business products sector in more ways than one.
Not only has the demand for high-viz vests diminished, a report by BIS Shrapnel has revealed that 22 per cent of office space in the Perth CBD is empty – the highest vacancy rate since 1993.
Rents have also collapsed, falling by more than 40 per cent since the peak of demand for office space in 2013.
"The WA economy continues to deteriorate and the contraction is biting hard across the entire spectrum of business," according to Phil Funga, co-director of Office National Canning Vale. "Consequently trading conditions have been particularly challenging so far this year and we don't expect any quick turnaround, certainly not in calendar 2016.
"As a result, in line with every dealer and supplier we speak with in WA, we have seen our sales decline and margins continue to be squeezed this year.
"That said, because of many of the initiatives we laid the foundations for over the past two or three years, we have managed to actually increase bottom line profitability year-on-year in the face of a decline in revenue," he said.
Funga and partner Michael Kilroe have countered the downturn in the WA economy by establishing a joint-venture office products distribution service that launched several years ago with a cost-sharing back office administration and distribution deal with Office National Booragoon and West Perth.
ONCV later entered into a cost-sharing arrangement with fellow Office Brands member Office Tools Office Products Depot, in which accounts, customer service, purchasing and distribution came under a centralised umbrella.

The company has just completed its first full 12 months trading with Office Tools.
"This has been a very successful venture for both ONCV and Office Tools to the point that this arrangement of third party logistics and back office functions on a cost-sharing basis has significantly improved our combined efficiencies and profitability," Funga said.
In February this year, ONCV added a new Office Brands O-NET dealer, OMNI Plus to its cost-sharing arrangement.
"This has proven to be another successful arrangement for both parties which has allowed them to start up and be profitable from day one without any capital costs for infrastructure or working capital investment," Funga said.
In May this year, ONCV acquired three new delivery vans and appointed an additional customer service person.
FOOTNOTE: The success of ONCV's business model has prompted fellow Office Brands members in NSW – Select Office National in Penrith, OPD Macarthur (Smeaton Grange) and Office National Wetherill Park/Smithfield to adopt a similar cost-saving distribution administration arrangement.
"This is proof that this innovation is indeed the way of the future for the independent dealer channel," Funga told Stationery News.