2016 Supplier of the Year Awards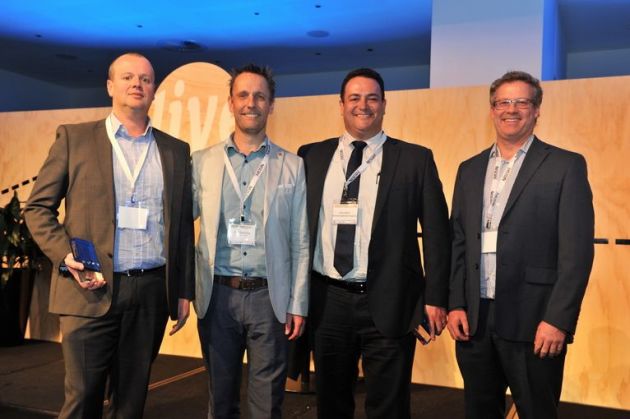 Supplier of the Year award-winners, from left, Andrew Menck (Australian Paper), Paul Manning (Dynamic Supplies),
Jason Bolton (General Stationery/Allstat) and Scott McLennan (Dynamic Supplies).
Dynamic Supplies has won the Stationery News Supplier of the Year Award, presented in Sydney last week as part of the 2016 Reseller of the Year Awards.
The 12 finalists (which through a couple of recent acquisition have become 10) were selected by office products resellers, who voted online via the Stationery News website. The judging process was assisted by an advisory panel comprising all finalists from last year's Reseller Awards.

The finalists were:
ACCO Australia (and its recent acquisition Pelikan Artline)

Australian Paper (and its even more recent acquisition, ed Office Products)

Brother International Australia

Cumberland Stationery

Dynamic Supplies

FurnX

GNS Wholesale Stationers

General Stationery/Allstat

Mitsubishi Pencil

Stationers Supply
Other awards presented were:
Corporate Responsibility: Australian Paper
Best Office Products Wholesaler: General Stationery/Allstat
This year, a new award was introduced – the Stationery News Best Front Cover Campaign - which was won by the Bantex Group for its Be Loud Work Loud with Quill campaign.