Canon gets creative with Océ Arizona Awards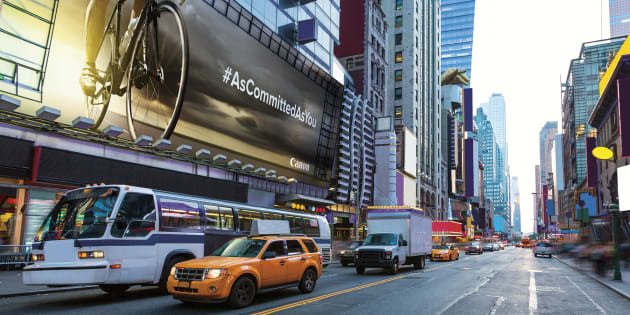 Canon's new billboard promotes the hashtag 'AsCommittedAsYou'.
Canon Australia has launched a major promotion around its Océ Arizona printer range with the emphasis on creative applications.
The Océ Arizona Awards, launched at PacPrint, celebrate outstanding work produced on an Océ Arizona printer, and highlight the "creativity and imagination of Canon customers by showcasing what these printers are truly capable of".
Adrian Morris, Canon Professional print general manager, said the competition "will recognise our customer's skill, effort and pride in producing high-quality applications utilising their Océ Arizona printers.
"A lot of the work produced are bespoke creations, requiring the best equipment and limitless imagination. They're designed to enhance the brands of their customers – so technical expertise, creativity and effective design are paramount to achieving a lasting impression," he said.
The competition comprises three categories:
Most technical – the application will be high value, multi-layered print on objects that demonstrate high level of difficulty.
Most effective – the application will be high impact but not necessarily technical. The project objective and the environment in which the application appears will be considered.
Most creative and innovative – the application will be advanced or original.
The winner of each category will receive an EOS M5 Single Kit valued at $1,949.
Entries will be judged by Canon's product manager for display graphics, Garry Muratore.