Office Choice members expand and rebrand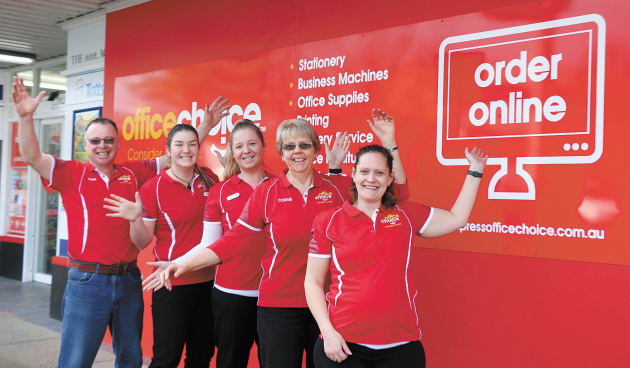 The team from Express Office Choice, from left, Dean Watchorn, Kiera Brown, Kate Hemming, Corrie Hemming and  Marnie Whiteside.
Office Choice will welcome several new faces at its annual conference in Melbourne this coming weekend.
The dealer group has been active with the opening of new dealers, with additional branded locations across Australia, including Victoria, Queensland, Western Australia, and New South Wales.
"Office Choice has capitalised on its continued brand strategy, resulting in pro-active membership movement and growth" according to Office Choice national dealer operations manager Jamie Keyzer..
"There have been a number of new dealers introduced to the Office Choice brand over the past year - Express Office Choice in Leongatha (Victoria), Top State Office Choice in Tamworth (NSW) and Noosa Office Choice in Tewantin (Queensland)," Keyzer said.
Meantime, Torstar in Penrith (NSW) has incorporated an Office Choice-branded facet to their business, Office Choice Penrith, in conjunction with the existing Torstar brand.
Office Choice has also announced the opening of Clarence Valley Office Choice in Grafton (NSW) on 17 October.
In other Office Choice news, Global Office Solutions is now known as Global Office & Warehouse Solutions in Carrum Downs (Victoria) while Office Choice Malaga and Office Choice Wangara has merged with Cristal Office Choice (all in WA). All stores will remain within the Office Choice group as branded members.
The recent acquisition of a Mulgrave-based competitor, and successful rebranding to Sprint Office Choice in Clayton (Victoria), commenced operations in August this year.
"The retention and re-branding of these businesses despite immense change, demonstrates the strength of the Office Choice brand within the competitive market, and is indicative of success within the group to potential new dealers," Keyzer said.
"I am pleased to see the effect of the brand strategy resonate through the market, and I'm confident that this will continue to result in a positive effect on dealer sales and membership enquiries," he said.