Office Choice on a promise with new campaign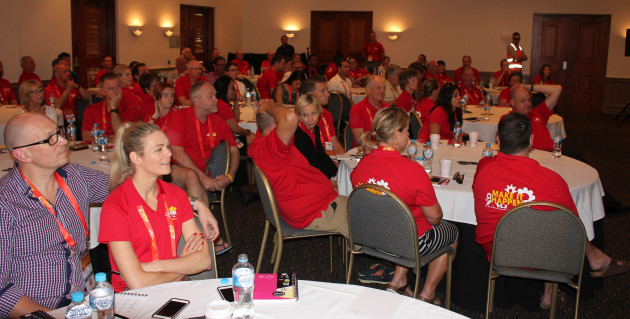 Office Choice members get the lowdown on the group's new marketing strategy at Twin Waters.
Dealer group Office Choice has "jumped out of the box" in the first quarter of the new financial year with an increase in total sales and the launch of a major new "brand promise" campaign.
Speaking to Stationery News at the group's annual conference and trade show at Twin Waters on the Sunshine Coast last weekend, Office Choice CEO Brad O'Brien said the group had started the year strongly with a mid-single digit increase in sales.
Group turnover was boosted by the addition of eight new dealers, among them former ASA member Perth-based Quick Corporate Australia, Brisbane-based Cleveland Office Supplies (a foundation member of Office National) and an office supplies business in Berrimah, a suburb of Darwin.
O'Brien details of the new "brand promise" campaign, an extension of the current 'Consider it sorted' promotional platform, will be released prior to a national roll-out in early 2018.
"Our research confirmed that the 'Consider it sorted' message was even more relevant today than when we introduced 'Joan the office manager' as our brand ambassador in 2014," O'Brien said.
"In extending the message and the way we engage with the market, we have addressed two of the main 'pain points' that our research identified in the customer relationship – uncertainty and level of trust," he said.
O'Brien added that the group would continue to focus on growth areas with holistic programs – "not just catalogues" ­– for furniture, promotional products and education supplies.