Winc launches new indigenous art range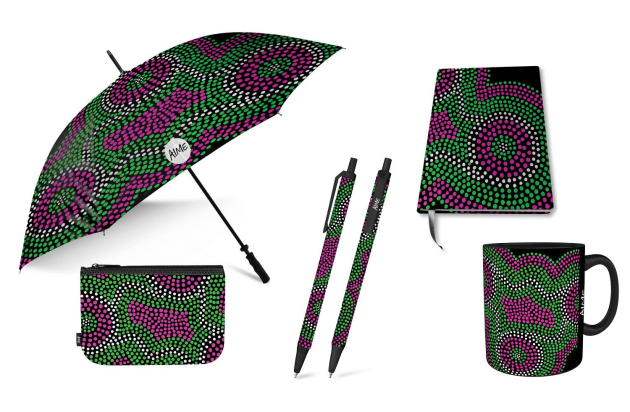 Winc and the Australian Indigenous Mentoring Experience (AIME) have launched a new product range, developed by indigenous students that will support young indigenous Australians in education.

All profits from the 15 piece collection – a range of notebooks, pens, mugs, pencil cases and umbrellas – will go to the AIME Education Program which aims to support 10,000 indigenous children across Australia each year.

The collection showcases the artwork of three young Indigenous students – Robert Tighe, Tanisha Lovett and Joshua Wilson, who all participated in an AIME 'Collaborate' camp in 2016, supported by the Winc team.
The AIME program is a dynamic educational offering that supports Indigenous students through high school and into university, employment or further education by giving them the skills, opportunities, belief and confidence.
Winc and AIME have been working together over the last four years on a number of projects to support young indigenous Australians including leadership development courses, cultural awareness programs and fundraising events.

Winc CEO Darren Fullerton said: "This is a milestone moment for us and a fantastic opportunity to make a difference in our Indigenous communities. This is a natural partnership for us and a positive extension of our purpose to make working and learning more creative, productive and fulfilling.
"We outlined our commitment to bringing this collection to life in our Reconciliation Action Plan last year and it's been an incredibly rewarding experience to see this come to life in such a vibrant and lively way. This is a great way for us to help our customers, employees and the general public build a better understanding of indigenous culture."
AIME CEO Jack Manning Bancroft added: "Imagine if every time you sipped a cup it sang you a story. Imagine if every time you put pen to paper you wrote with a deeper force behind you. Imagine if when it rained, you took cover under a canvas that spoke back to the skies.
"This product range is a mix of people's lives, people's stories. These are the tales of the next generation of Aboriginal and Torres Strait Islander kids and we are very proud to partner with Winc to support this."