Blue skies for Warehouse Stationery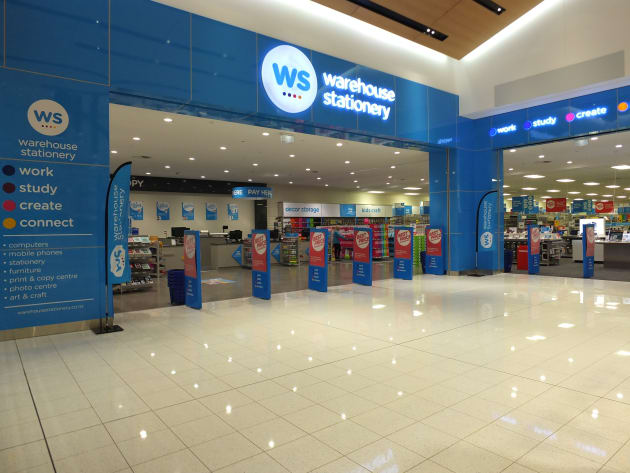 Part of The Warehouse group, Warehouse Stationery has enjoyed huge growth since the opening of its first 'Blue' store Wairau Park, Glenfield, north of Auckland, in 1991.

With 66 stores offering more than 8500 product lines, the company is continually looking to drive initiatives in the stationery, office products and related services markets and its annual sales growth figures are well in excess of the industry average.

In a phenomenal run, the company has recorded same store quarterly sales growth over the past seven years.
Peter Darbyshire, Warehouse Stationery's executive general manager – merchandise and planning, is responsible for setting the company's range assortments.
"It's all about following the customer and linking everything we do to 'Work, Study, Create and Connect'," he says.

STATIONERY NEWS: According to Warehouse Stationery's latest results, the company has recorded 28 consecutive quarters of same store growth. What are the main drivers of this growth and what are prospects for the full year?
PETER DARBYSHIRE:The full year picture looks pretty good; we're aiming for our 28th consecutive quarter of same stores sales growth  The main driver of our recent success has been following the customer, providing for their needs and wants and delivering product innovation to complement the existing core office product categories.  
STN: It hasn't always been sunny skies for Warehouse Stationery as media reports from a decade ago suggested the company had 'lost its way' but had recovered due to a commitment to a "customer-led, store-focused and people-centred" strategy. Is this sentiment still a guiding principle?
PD: Absolutely. The turnaround of Warehouse Stationery and its continued success is down to our guiding principles that help us make the right decisions for our customers and ensure our customers (online and offline) deliver a great experience for them to shop in.  Our people are our biggest asset and we continue to develop and invest in their capability at all levels whilst creating an engaged a collaborative and engaged environment.
STN: Having won several workplace awards, it's obvious the company has developed a strong team culture. How has this been achieved?
PD: It's back to being a principle-led organisation.  We have created a 'Way of Working' that enables our team to work, collaborate and perform across the organisation.  The 'Way of Working' provides a framework for our teams to understand how we run the organisation and at the same time allows freedom within for team members or express their individual flair and creativity.     We invest in our team in many ways, with a number of comprehensive learning and development programs and team member benefits.
STN: With many traditional stationery and office products categories in a mature phase, what products and services has the company looked to for growth?
PD: It goes back to your first question; following the customer, being innovative and surprising the customer. We are now far more than a stationery retailer, extending the offer with new products and services. Fashion stationery would be a good example.
STN: What has been the trend with online sales and which categories have proven to be the most popular?
PD: Most categories are shopped online, however the technology categories have proven to be the most popular.
STN:. The company's 'Get New Zealand Writing' campaign is a great idea to get young New Zealanders to write more and improve their literacy skills. What sort of reaction have you had to the campaign, now in its second year.
PD: The 'Get New Zealand Writing' campaign has been a real success, growing year-on-year.  Engagement with schools and kids has been fantastic, with terrific support from our supplier partners.  We're already in to the planning for GNZW 2017!

Get New Zealand Writing campaign
With digital devices and screens now dominating New Zealand schools, Warehouse Stationery has launched an initiative to keep the art of handwriting alive.
Designed to help improve literacy and language skills through letter writing, Warehouse Stationery's 'Get New Zealand Writing' programme gave school children the opportunity to write a postcard and have it delivered for free, anywhere in the country.
More than 70,000 postcards were gifted to Kiwi children as part of the campaign, which is now in its second year.
Participating school children were encouraged to write to a loved one using their best handwriting and then post their card free in store to anywhere in New Zealand. Parents were also encouraged to get involved with 50,000 free postcards and postage made available to them also.
During April, Warehouse Stationery provided free post cards in all of its stores. 
Pejman Okhovat, Warehouse Stationery CEO, said international research has shown that when students practice writing by hand they learn how to read and write more quickly and more accurately.
"The 'Get New Zealand Writing' initiative is a fun way to focus on the importance of writing in a child's life. In times when traditional letter writing is becoming a lost art, we think it's important to continue to encourage Kiwi children to keep it alive.
"We all know how special it is to receive a handwritten card from someone. We are proud to be able to provide kids with this opportunity while promoting writing as an essential part of their development and achievement," Okhovat said.
Warehouse Stationery has also launched its 'My Favourite Words' campaign in which New Zealand children and their families will have the opportunity to submit their favourite word and reason why, with the chance to have their handwritten sentence selected to appear in the final notebook.
Proceeds raised from the notebook will be donated to the Warehouse Stationery Scholarship Fund an initiative with the Salvation Army which helps young New Zealanders achieve their tertiary study goals.